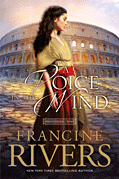 The first book in the bestselling Mark of the Lion series,
A Voice in the Wind
brings readers back to the first century and introduces them to a character they will never forget—Hadassah. Torn by her love for a handsome aristocrat, this young slave girl clings to her faith in the living God for deliverance from the forces of decadent Rome.
This classic series has already inspired nearly 2 million readers, but both loyal fans and new readers will want this 20th anniversary edition of a Christian classic, which includes a foreword from the publisher, a letter from and Q & A with Francine Rivers, color map, an illustrated glossary, and discussion questions suitable for personal and group use.
As I began reading this 20th Anniversary Edition of
A Voice In The Wind
, by
Francine Rivers
, I became anxious at the vivid descriptions in the opening paragraph,
"The city was silently bloating in the hot sun, rotting like the thousands of bodies that lay where they had fallen in street battles. An oppressive, hot wind blew from the southeast, carrying with it the putrefying stench of decay."
My apprehension to continue reading a story that claims to be a classic was resolved by my commitment to give an honest review of this book for the publisher.
The book surprised me by it's story of life in the first century. I believe the author has thoroughly researched the background for the book. Each chapter brought me closer to experiencing the sights and sounds and emotions of Hadassah and those living through Rome's persecution of Christians.
This special edition has the addition of the discussion questions which would make an interesting home-study with friends.
Even though I'm still not comfortable reading script with horrific details, this book deserves to be on any best seller list. Understanding and experiencing what life must have been like for Christians in the very early years through this story helps me appreciate the perseverance of all those believers who have come before me.
I was provided a complimentary copy of the book for review purposes from Tyndale House.