Darek Christiansen is almost a dream bachelor—oldest son in the large Christiansen clan, heir to their historic Evergreen Lake Resort, and doting father. But he's also wounded and angry since the tragic death of his wife, Felicity. No woman in Deep Haven dares come near.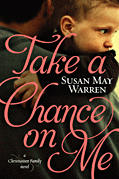 New assistant county attorney Ivy Madison simply doesn't know any better when she bids on Darek at the charity auction. All Ivy knows is that the Christiansens feel like the family she's always longed for. And once she gets past Darek's tough exterior, she finds a man she could spend the rest of her life with.
Caught between new love and old grudges, Darek must decide if he can set aside the past for a future with Ivy—a future more and more at risk as an approaching wildfire threatens to wipe out the Christiansen resort and Deep Haven itself.
This book speaks a strong message of how we show forgiveness.
I'm including a link to read the interview with author, Susan May Warren as she gives deeper insight for the inspiration of this new six-book series. Susan May Warren Questions and Answers
I recommend this book to readers based on the principles of overcoming personal fears, accepting others with respect, and showing compassion and grace.
"It's a saga about family and faith and what happens when those collide with real life." Susan May Warren
Ivy and Darek each have their personal hang-ups to work through as the story includes their friends, Jensen and Claire. The gardening stories, caring for an aging grandfather, and the fear of a forest fire make for plenty of interest throughout the book.
Little five-year old, Tiger, is Darek's son, and you can easily picture his curiosity and energy as he challenges his family when outsiders fear his injuries are more than typical child's play.
I appreciate the setting in the northwoods of Minnesota. The descriptions of the Christiansen's family resort and the lake inspire a trip to visit this restful setting.
I'm looking forward to the next installation of the Christiansen Family.
Tyndale House Publishers has provided me with a complimentary copy of this book.